VirtualDub MSU Deshaker filter
Algorithm:
Dr. Dmitriy Vatolin
Stanislav Soldatov
Konstantin Strelnikov
Implementation:
Konstantin Strelnikov
Video, captured without special auxiliary device, video captured on vehicle (car, helicopter) often has undesirable motion of whole frame - shake. Video with shaking is very disagreeable to watch. MSU Deshaker filter is intended for undesirable motion removing, in other words for video stabilization.
Frames shift so as to remove undesirable motion when video stabilization is performed. Thus unknown areas are appearing near the frame edges (see figure 1). Merit of the filter in unknown areas reconstruction from previous frames.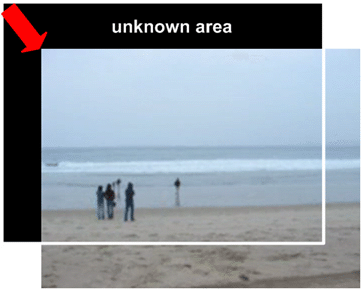 Fig 1. Unknown areas appearance
Next follow results of MSU Deshaker filter.
---
Examples
---
Source video frames sequence
Same frames after video stabilization without unknown areas filling
Same frames after video stabilization with unknown areas reconstruction

Fig 2. MSU Deshaker result
---
Download
---
For commercial license of this filter please contact us

---
Another resources
---
Video resources:
3D and stereo video
Projects on 3D and stereo video processing and analysis
MSU Video Quality Measurement tools
Programs with different objective and subjective video quality metrics implementation
Codecs comparisons
Objective and subjective quality evaluation
tests for video and image codecs


9-th MPEG4-AVC/H.264 Comparison

Public MSU video filters
Here are available VirtualDub and AviSynth filters. For a given type of digital video filtration we typically develop a family of different algorithms and implementations. Generally there are also versions optimized for PC and hardware implementations (ASIC/FPGA/DSP). These optimized versions can be licensed to companies. Please contact us for details via video(at)graphics.cs.msu_ru.
Filters for companies
We are working with Intel, Samsung, RealNetworks and other companies on adapting our filters other video processing algorithms for specific video streams, applications and hardware like TV-sets, graphics cards, etc. Some of such projects are non-exclusive. Also we have internal researches. Please let us know via video(at)graphics.cs.msu_ru if you are interested in acquiring a license for such filters or making a custom R&D project on video processing, compression, computer vision.

Semiautomatic Objects Segmentation
Deblurring filter
Video Content Search

Video codecs projects
Different research and development
projects on video codecs
Other
Other information
Last updated: 12-May-2022
---
Server size: 8069 files, 1215Mb (Server statistics)
Project updated by
Server Team and MSU Video Group
Project sponsored by YUVsoft Corp.
Project supported by MSU Graphics & Media Lab