MSU Quality Measurement Tool: PRO Version
---
VQMT PRO
---
---
PRO Version Benefits
---
Includes GUI PRO tool
Includes command line PRO tool (designed for batch processing)
Professional 10, 14, 16 and 32 bits color depth raw files support
HDTV support: HD, FullHD, 4K, 8K etc.
Ability to save separate files with average metric values
Ability to calculate a set of metrics in several color spaces simultaneously
Additional documentation
Customers support (up to tool customization)
See also
Main Features of PRO and FREE versions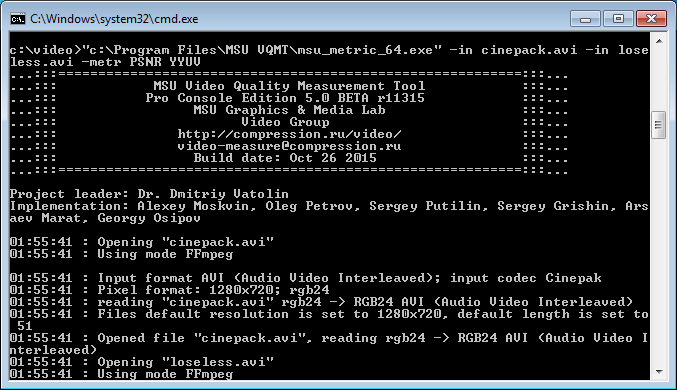 Command-line tool
---
Purchase & Download
---
Product
Title
Price
Buy now

VQMT Professional Version

Version 14.1, 1 year free updates.

Unlimited usage on a single computer of each license: under 1 Window and 1 Linux system.

Available platforms:

USD 299–999

*

per license
Buy now

VQMT Premium Version

Version 14.1 with unlimited licenses, 1 year free updates

Available platforms:

USD 3820

*

Buy now

VQMT SDK

Integrating VQMT with your own product:

more...

Available platforms:

USD 19500
Buy now
*
1-year free updates, renewal for the
40% 1st year's full price
If you are already our customer, you can get the latest version of VQMT with support for one year with 50% off!
Please, contact us to obtain discount code: video-measure@compression.ru.
---
PRO Version FAQ
---
This FAQ consist of common questions about PRO version. General program FAQ is here.
Q: Is the license of PRO Version time-limited or not?
A: No, there are no limitations.


Q: Does the MSU VQMT PRO Version include software updates/patches and functional extension?
A: Yes, all updates for one year are included.


Q: How I can get a discount?
A: You can obtain it if you will find some bugs in free version of MSU VQMT, or if you will purcase more than one license simultaneous.


Q: What is included into PRO Version license?
A:


GUI version of the MSU VQMT, licensed for commercial usage
MSU VQMT PRO version with command-line interface
Software documentation
All free plugins
---
Contributors
---
Special thanks to following contributors.
---
Testimonials
---
We have testimonials from the following big companies:
Analog Devices(analog.com)
Samsung (samsung.com)
Intel (intel.com)
Hewlett-Packard (hp.com)
Thomson (thomson.net)
Harmonic (harmonicinc.com)
Matrox (matrox.com)
Zoran (zoran.com)
Kodak (kodak.com)
Honeywell (honeywell.com)
Small companies:
AudioCodecs (audiocodes.com)
Envivio (envivio.fr)
Ambric Inc (ambric.com)
Smart phones (smartphones.no)
TestPro (testpro.co.il)
Bouygues Telecom (bouyguestelecom.fr)
CDRinfo (cdrinfo.com)
Infoteck (infoteck.ru)
Cubiworld (cubiworld.ch)
INESC Porto (inescporto.pt)
And universities:
University of Technology Sydney (it.uts.edu.au)
Fraunhofer (igd.fraunhofer.de)
Brunel University (brunel.ac.uk)
Alpen-Adria University (edu.uni-klu.ac.at)
California State University (csudh.edu)
Universeit Gent (intec.ugent.be)
---
Download & Purchase
---
Download & Purchase
---
Contacts
---
| | |
| --- | --- |
| e-mail: | |
---
---
---
Other resources
---
Video resources:
3D and stereo video
Projects on 3D and stereo video processing and analysis
MSU Video Quality Measurement tools
Programs with different objective and subjective video quality metrics implementation
Codecs comparisons
Objective and subjective quality evaluation
tests for video and image codecs


9-th MPEG4-AVC/H.264 Comparison

Public MSU video filters
Here are available VirtualDub and AviSynth filters. For a given type of digital video filtration we typically develop a family of different algorithms and implementations. Generally there are also versions optimized for PC and hardware implementations (ASIC/FPGA/DSP). These optimized versions can be licensed to companies. Please contact us for details via video(at)graphics.cs.msu_ru.
Filters for companies
We are working with Intel, Samsung, RealNetworks and other companies on adapting our filters other video processing algorithms for specific video streams, applications and hardware like TV-sets, graphics cards, etc. Some of such projects are non-exclusive. Also we have internal researches. Please let us know via video(at)graphics.cs.msu_ru if you are interested in acquiring a license for such filters or making a custom R&D project on video processing, compression, computer vision.

Semiautomatic Objects Segmentation
Deblurring filter
Video Content Search

Video codecs projects
Different research and development
projects on video codecs
Other
Other information
Last updated: 12-May-2022
---
Server size: 8069 files, 1215Mb (Server statistics)
Project updated by
Server Team and MSU Video Group
Project sponsored by YUVsoft Corp.
Project supported by MSU Graphics & Media Lab