VirtualDub MSU Subtitle Remover

Project, ideas: Dr. Dmitriy Vatolin
Version 1.2 (MSU Subtitle&Logo Remover): Dmitriy Kulikov
Version 2.0b (MSU Subtitle Remover): Dmitriy Kulikov, Sergey Putilin
Version 3.0beta2 (MSU Subtitle Remover): Dmitriy Kulikov, Sergey Putilin, Yuriy Berdnikov
New version of filter for LOGO removal is here MSU Logo Remover
This filter is a plugin for VirtualDub (Free!)
New MSU Subtitle Remover 3.0 beta2 is available! Download filter now Unpack this file in VirtualDub "Plugins" folder.
Please read User Manual before E-Mailing us
---
What`s new in 3.0 beta2?
---
Fixed bug with "upside-down detection areas"(Thanks for your feedback!)
Fixed minor bugs with highly compressed video
New processing mode - single pass, no temporary files. Filter became more user-friendly
---
What`s new in 3.0 beta?
---
New detection algorithm - works up to 2 times faster with less memory usage and better quality
Improved removing algorithm
---
Main filter ideas:
---
Static subtitles - text doesn`t move for some time
2-Pass or single-pass mode - Detection and removing
Possibility of external mask editing
Two subtitle removing methods
---
Settings
---
See filter User's Guide for more details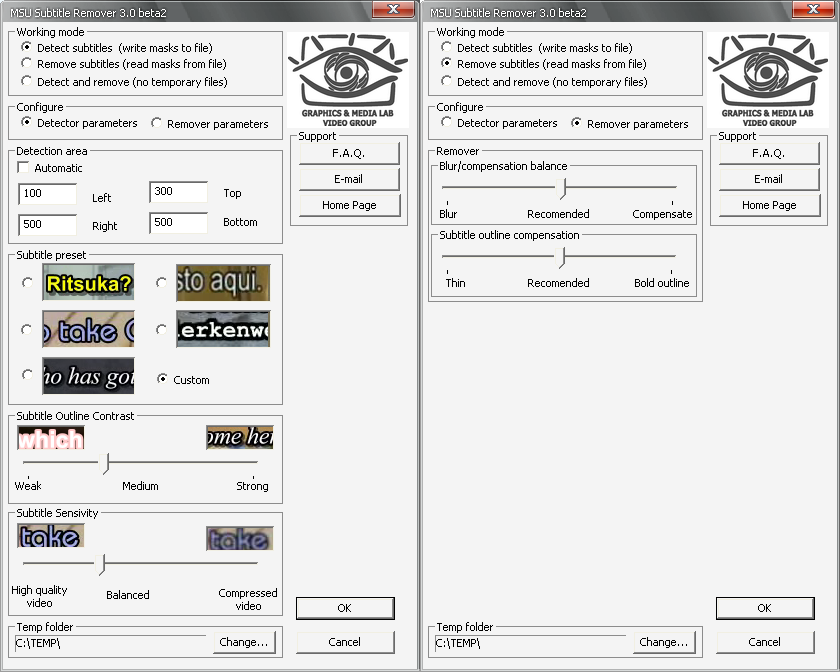 Screenshots
---
Examples
---

`Cutted` sequence, 10th frame after subtitle appearing, fast linear camera motion

`House M.D.` sequence, 12th frame after subtitle appearing, scene change

`Friends` sequence, 17th frame after subtitle appearing, camera shaking and slow motion

`Anime3` sequence, 17th frame after subtitle appearing, high camera shaking
---
Speed tests
---

Speed comparsion of different versions. Measured on AMD Athlon 2200+
---
Version history
---
---
Download
---
E-mail:
For common questions about filter's work and other issues about it please contact us
For commercial license of this filter (commercial usage is not free) please contact us
---
Another resources
---
Video resources:
3D and stereo video
Projects on 3D and stereo video processing and analysis
MSU Video Quality Measurement tools
Programs with different objective and subjective video quality metrics implementation
Codecs comparisons
Objective and subjective quality evaluation
tests for video and image codecs


9-th MPEG4-AVC/H.264 Comparison

Public MSU video filters
Here are available VirtualDub and AviSynth filters. For a given type of digital video filtration we typically develop a family of different algorithms and implementations. Generally there are also versions optimized for PC and hardware implementations (ASIC/FPGA/DSP). These optimized versions can be licensed to companies. Please contact us for details via video(at)graphics.cs.msu_ru.
Filters for companies
We are working with Intel, Samsung, RealNetworks and other companies on adapting our filters other video processing algorithms for specific video streams, applications and hardware like TV-sets, graphics cards, etc. Some of such projects are non-exclusive. Also we have internal researches. Please let us know via video(at)graphics.cs.msu_ru if you are interested in acquiring a license for such filters or making a custom R&D project on video processing, compression, computer vision.

Semiautomatic Objects Segmentation
Deblurring filter
Video Content Search

Video codecs projects
Different research and development
projects on video codecs
Other
Other information
Last updated: 12-May-2022
---
Server size: 8069 files, 1215Mb (Server statistics)
Project updated by
Server Team and MSU Video Group
Project sponsored by YUVsoft Corp.
Project supported by MSU Graphics & Media Lab