MSU Lossless Video Codecs Comparison
MSU Graphics & Media Lab (Video Group)
Project head: Dr. Dmitriy Vatolin
Testing, charts, analysis: Sergey Grishin
Translating: Daria Kalinkina
Verification: Stas Soldatov
See new version of this comparison (March 2007)
Lossless Video Codec Comparison 2007
---
About comparison
---
Number of test sequences: 9
Number of color spaces considered: 3
Number of codecs tested: 15
Alpary v2.0
AVIzlib v2.2.3
CamStudio GZIP v1.0
CorePNG v0.8.2
FFV1 ffdshow 08/08/04
GLZW v1.01
HuffYUV v2.1.1
Lagarith v1.0.0.1
LEAD JPEG v1.0.0.1
LOCO v0.2
MindVid v1.0 beta 1
MSUlab beta v0.2.4
MSUlab v0.5.2
PicVideo JPEG v.2.10.0.29
VBLE beta
Download MSU Lossless Video Codecs Comparison (1.36MB, PDF)
See also:
---
About the comparison of lossless codecs
---
The name of this video codec category declares full quality losses absence - the decompressed video stream should be completely identical to original. Output quality is same for all codecs. Absolute absence of losses is a very strong requirement, therefore it is often hard to achieve compression ratios above 3:1. Some of the tested codecs have an opportunity of work in "lossy" mode; it allows to reach considerably higher compression degree with rather small losses of quality. However, only "fully lossless" mode is considered in the current comparison. The only parameter of comparison is the compression level.
Many codecs give an opportunity to adjust the parameter speed/compression ratio; it allows to tune the codec for the specific task (real-time capture or the rendering requiring loss minimization). Only maximum compression ratio result is considered in current work.
Some codecs are capable to accept input data in several color spaces (RGB, YUY2, YV12, etc.), however, compression is not always "lossless". Some codecs "silently" perform the conversion of color spaces, thus, raising a degree of compression. Quality losses coming out of such conversions are not visible, but surely exist. In the given testing work codecs is compared separately for various color spaces, thus in each color space full absence of losses is guaranteed!
Main parts of the comparison:
Information about codecs:

Vendor and version
Color space support
Logo presence in compressed video
Registration requirements

and test sequences:

Sequence name
Resolution
Number of frames

Brief codecs description with screenshots
Codecs comparison with analysis of compression ratios for each sequence
Codecs comparison with analysis of total compression ratios for each codec

Diagram from 3 part of comparison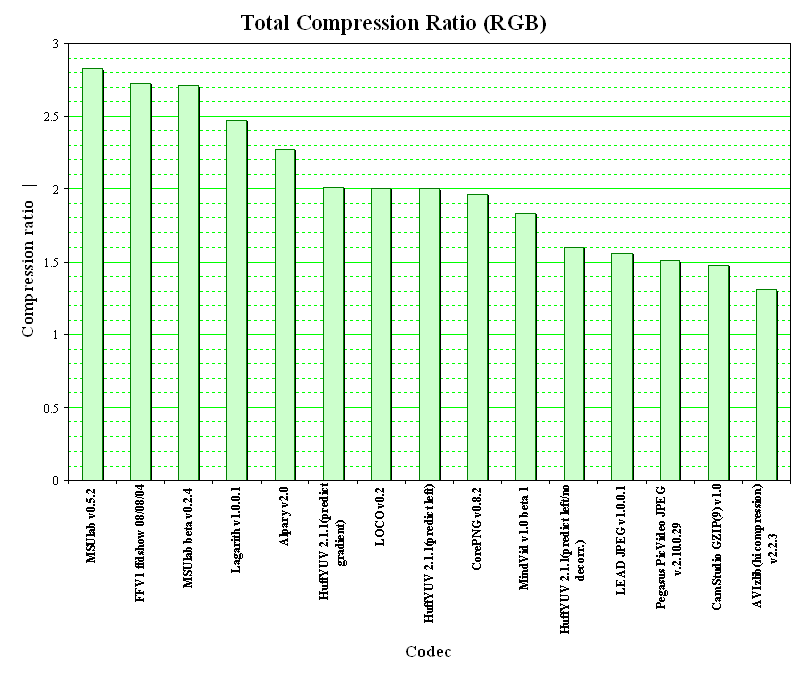 Compression ratios for codecs for RGB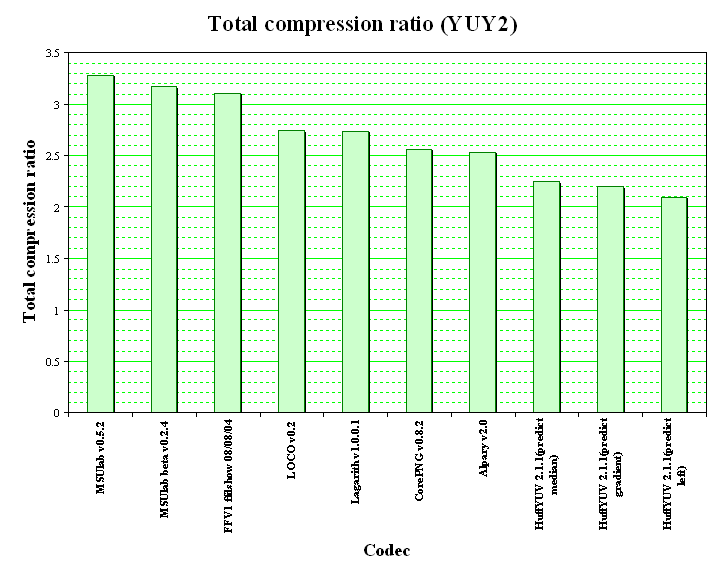 Compression ratios for codecs for YUY2

Compression ratios for codecs for YV12
---
Download
---
| | |
| --- | --- |
| E-mail: | |
See all MSU Video Codecs Comparisons
MSU video codecs comparisons resources:
---
Other materials
---
Video resources:
3D and stereo video
Projects on 3D and stereo video processing and analysis
MSU Video Quality Measurement tools
Programs with different objective and subjective video quality metrics implementation
Codecs comparisons
Objective and subjective quality evaluation
tests for video and image codecs


9-th MPEG4-AVC/H.264 Comparison

Public MSU video filters
Here are available VirtualDub and AviSynth filters. For a given type of digital video filtration we typically develop a family of different algorithms and implementations. Generally there are also versions optimized for PC and hardware implementations (ASIC/FPGA/DSP). These optimized versions can be licensed to companies. Please contact us for details via video(at)graphics.cs.msu_ru.
Filters for companies
We are working with Intel, Samsung, RealNetworks and other companies on adapting our filters other video processing algorithms for specific video streams, applications and hardware like TV-sets, graphics cards, etc. Some of such projects are non-exclusive. Also we have internal researches. Please let us know via video(at)graphics.cs.msu_ru if you are interested in acquiring a license for such filters or making a custom R&D project on video processing, compression, computer vision.

Semiautomatic Objects Segmentation
Deblurring filter
Video Content Search

Video codecs projects
Different research and development
projects on video codecs
Other
Other information
Last updated: 12-May-2022
---
Server size: 8069 files, 1215Mb (Server statistics)
Project updated by
Server Team and MSU Video Group
Project sponsored by YUVsoft Corp.
Project supported by MSU Graphics & Media Lab